Copyright © 2007 - 2023
Copyright © 2007 - 2023, Coachworks For contact data Click Here.

has been retained for reference purposes.
Porsche Engine:
1962 1600 Type 616/1
Number 60948x*
Background on This Engine
In the process of selling this 1500 S engine from a 1955 Speedster, I was contacted by George Walling, who has owned his '55 Speedster since new. He was looking for an engine.
AT RIGHT: This engine on George's engine test stand for final assembly from the long-block-plus he got from us into a complete engine using George's former engine's accessories.
It happened that for whatever reasons, he preferred something younger. His father John, now in his 90s, used to run a Porsche repair facility in southern Oregon back in the 1960s, and had built him this engine (which I later rebuilt) for the Speedster while he was in Vietnam, but all these years later nobody knew why it wouldn't turn over (which is why I received it as a "core"). Apparently, it was one of if not the last Porsche engine(s) John built.
For practical reasons, George wanted me to build him an engine and the timing was important, so he wanted another one outright instead of rebuilding his "core" for him. So, the parts for this one were scrounged up from hither and yon in the workshop. This set of parts had never been together before, so it's a collection of "whatever works in our timeframe." Still, he did get some pretty nice parts in there. And, it's been completely gone through - nothing left undone.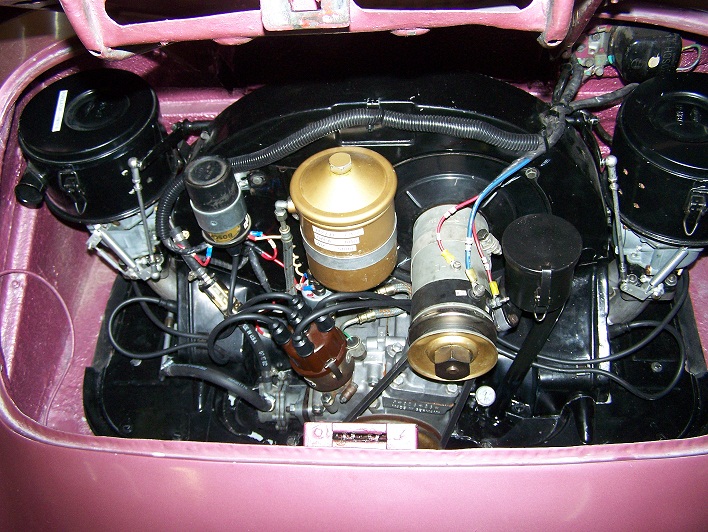 George and John brought with them an SUV filled with parts, some of which for trade, some of which were used on this engine, such as the tin. Notably, George and John stayed and watched - and participated a little - as their engine was assembled. . .
We (not George and John) provided the entire "long block", valve cover to valve cover and some of the accessories, too, such as the fuel pump, which we rebuilt.
Often when one assembles random parts, there are "issues," but on this occasion, the assembly went so fast, we don't have a lot of images of it. And, one of the cameras we were using to photograph this engine disappeared. . . . .
Here are some random shots taken during assembly. In this first image, you can see that the case is marked +.25mm - yes, we align-bored it in-house, so it's first oversize. The bearings are old-production Glyco.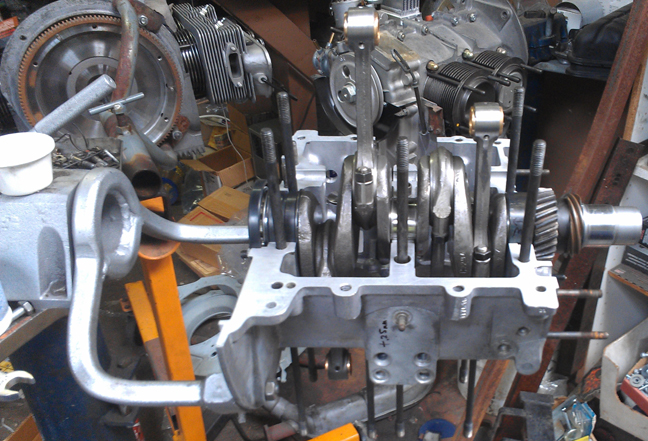 In this second image, you can see the refaced lifters - these went against a reground Super camshaft. And the rods were "rebuilt." Here's how we rebuild rods:
Resize the big ends
Replace the bushings on the little ends
Bore the bushings so that all 4 rods have exactly the same length
Hone the bushings to fit the pins, and finally;
Balance end-for-end and total weight to 0.1 grams.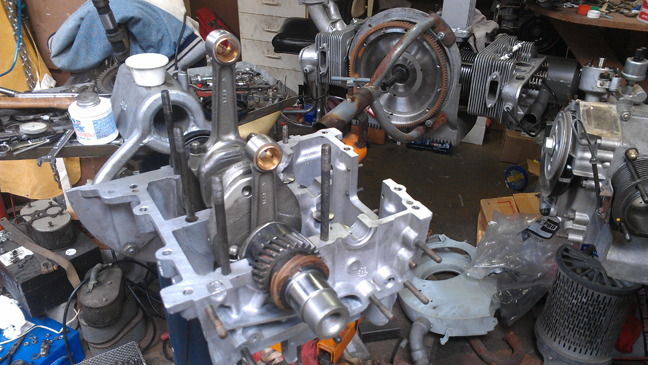 The heads came from this grouping of six that were done in a batch to save on labor. The heads that went on this engine are "C" type, and are easily the best parts that went on this engine as they're virgin (except for the new guides) and are perfect. They're the ones against the D, straight back (center background), with the triangular supports in the rocker box: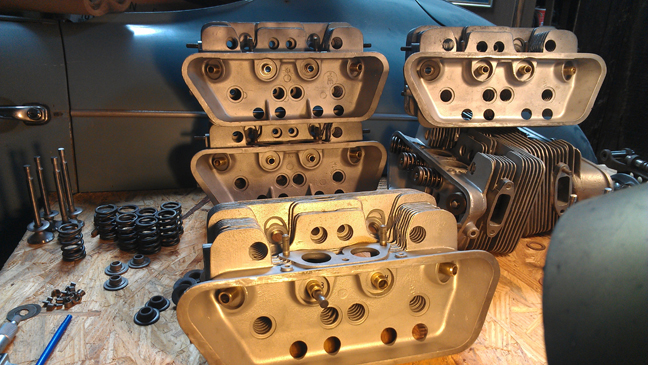 The valves were refaced and polished, and came from this grouping (which are ready to go):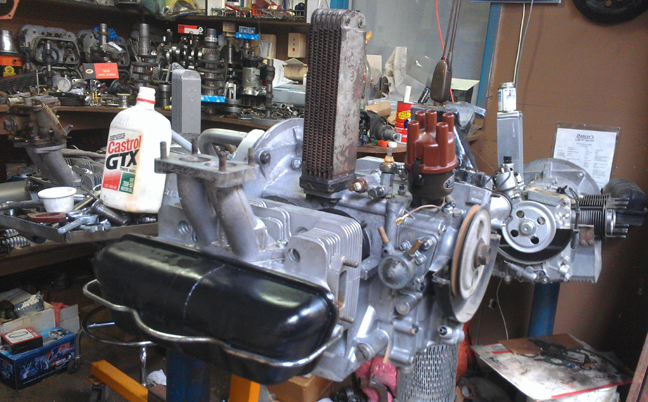 The black painted generator stand was previously mounted to the timing cover - as it was clean, it was just left in place for the moment as we were under a time crunch. It later got swapped out for a bright and shiny one.
The pistons are "C" originals of known history and low mileage. They got new rings.
The rockers were refaced.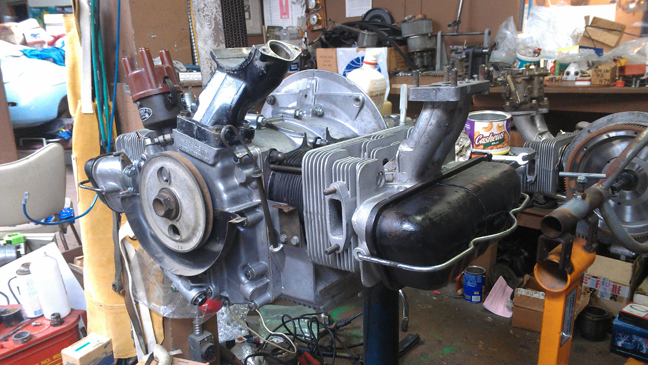 The oil pump got a new oil seal on the cable-shaft.

The generator got new brushes... The fan got its shimming reset.

What does your Porsche need? Need an Engine Rebuilt or Serviced? Brakes?
When you're ready for work on your machine, just let us know.
---
* Privacy Note
Because some people are keeping logs of VIN and engine numbers and then purport to tell people what someone else has, out of respect and concern for a buyer's privacy, exact VIN and engine number data are not published here.
---
---
---