Copyright © 2007 - 2023
Copyright © 2007 - 2023, Coachworks For contact data Click Here.

LSR Karmann Ghia Blog, August 13, 2009
The following was sent to the Karmann Ghia Club of North America's email list on August 13th, 2009:

Hi Everyone,
First, an update on my activities these last two days and following is a reply to all your posts I've received in the mean time...
Yesterday Larry Edson and I took the day to paint the 1959 KG Coupe. It shouldn't take a day if all the preparation were completed, but we found out just how not prepared the body was! I put in about 19 hours and Larry something like 12 - it was a long day. We were using a new paint gun and it took us a while to figure it out. We started with the inside of the deck lids - and glad we started there so we could figure it out before getting on to more vital things. ...All the real work in paint a car is in reparation, not in the shooting and we didn't actually have it ready to shoot until something like 11PM! I went to bed after catching a late dinner at gawd-awful o'clock...
Today, I got up late but got working on the vehicle in other ways; the paint has to cure before assembly can begin. And, the paint will need some more work too - just because the paint has been laid down does not mean it's done! ...So... I headed off to a tire store and picked up some metal valve stems that would fit the rims - metal stems are required by the rules and they're smart anyway, though not period authentic for street use. Once in hand, I went to a friends workshop down in the South Bay (San Francisco Bay). ...So, we digress for a moment to delve into this friend, his connection to Denzel, the engine type I'll be using, and how this all connects to the '59 Coupe's being on the salt in one month's time. To wit:
This particular friend and I have been good friends for twenty years this year. He ran a VW repair shop for decades but now works as the retained mechanic of a Silicon Valley millionaire who happens to be a VW enthusiast. We are both Vintage VW Engine enthusiasts and, as he put it, we're a very complementary pair because I have the detail knowledge of the parts and engineering - and I'm much more of a real engineer - while he has vastly better connections and access, is better known in the wider VW world, and he has more hands-on experience with VW engines in general. So it's only natural that we'd come together to work on Denzel.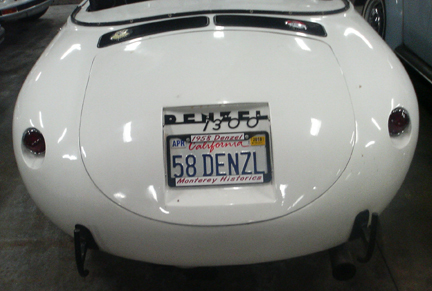 His millionaire employer's collection includes a Denzel automobile and it has attracted attention from the larger automotive world and from that several Denzel engines have appeared from the woodwork. Today we guessed that between us we know of only three running Denzel engines - an update from the one I spoke of yesterday morning! However, I have three myself, he has one mostly complete and he can maybe cobble together most of a second, and "the woodwork" has brought us a total of 6 more, if I have the count correct, so we're looking at eleven in total. Of these, and including the most recent one I cited yesterday, not one of them had all the parts needed. So, we're all in need of reproductions. So, some years ago, long before I knew of a single one of these other engines, I started making Denzel reproduction parts and, indeed, I have made the very most expensive pieces that have been made to date! Tooling to make some of the pieces costs big bucks, too. But, as he observed a few days ago, only me (over 10 years ago and ongoing) and one other engine owner (two months ago) have stepped forward to actually put the money into reproducing the required parts. Everybody else sits on their hands (wallets)...
Thankfully for me, he has taken it upon himself to champion the smaller pieces for us. And, bringing it back now to the Ghia on the Salt in September, today I picked up from him the just completed cylinder shims and exhaust flange gaskets. He was supposed to have intake gaskets, too, but they weren't ready. Meanwhile I have figured out the outer valve springs and retainers and I showed him how my pieces are functional replacements to original Denzel but my springs are superior in tension and ability to take lift (bind height). So, we did a little bartering, and he let me pick through all his inner valve springs to get the stiffest set.
One interesting thing was just how much variation there was in the valve springs. There is a HUGE varriation! The outer springs varied from 62 # to 74# and the inner from 7 # to 19# at the "installed height"! So, with one combination you get 69 pounds and 93 pounds with another - just imagine what that means in any one engine! (What it means is that one valve would float at a lower RPM than the others and you'd damage some of the parts, but not all!)
My friend also let me use his huge lathe and check the true-running of my intended wheels (rims). I already reported that in my reply to Mike Nabelic, so I won't repeat it here. Just that I've now got a set of four true-running rims and need a fifth...
...And now I get to my email and find some comments from you fellow listees.
Paul Cannefax and Jim Geddings both ask about spectator fees - I don't think there are any.
Paul also asks about Art at ACE who has a dyno: I don't know Art, but YES, I would LOVE to get a chance to tune at altitude - PLEASE hook me up with his contact data! And I don't know Justin, either. (BTW, 5th gears are not permitted.) And yes, Paul, you can probably help! THANK YOU!
Meanwhile, Scott Photo asks about dates. It's September 16 to 19. For more information, follow your nose on the URL posted in my original posting (below). Again, no spectator fees, IIRC. WOULD LOVE TO HAVE SOME SPECTATORS, SCOTT! Please do come!
Jim Geddings speaks of his '66 project; Jim, it isn't clear from your post - are you going to campaign the '66 in the 36hp Challenge? Also, when your guy says the effort is in the intake length and shape, which intake length and shape is he referring to? The intake length is fairly well fixed for most of us. For shape, I presume he means, effectively "porting" the heads for better air flow, yes?
Britt Grannis mentions "Whitey" - Who's he, please?! I'm guessing he's the machinist who Jim cites as working on his '66's engine? I'm always keen to meet great people! Who is this guy?

...Well, that's it for now. Thanks for all the support and interest - this is a really fun endeavour.
Regards,
Richard
---
---
---